Blues Lotto news
01/10/2018 £1,000 winner
Our latest Blues Lotto bi-monthly bonus draw winner Maggie Cormode from Penrith with her £1000 prize.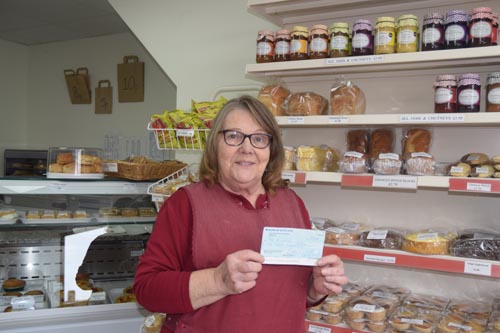 25/08/2012 Job opportunities - Penrith, Keswick, Haltwhistle and Allonby
The Blues Lotto is looking for collection agents in the above areas. These positions involve no selling at all! It's as simple as picking up subscription money from the local addresses we send you.
If you have a friendly, outgoing personality and fancy a few hours work each week (ideal for active pensioners but anyone over 18 years old may apply). Average earnings are normally well above minimum wage, with the chance of bonuses too!
For further details call (01228) 526237 (and press option 4). Please leave your contact details on our answering machine if no reply.
23/12/2011 Blues Lotto office
The Blues Lotto office will be closed from 24th to 30th December. We would like to take this opportunity to wish all our members and agents a very Merry Christmas and a Happy New Year!
08/11/2011 £1,000 October winner
It's another £1000 winner for Blues Lotto agent Kenny Somers who is seen here presenting his customer, Sandra Mingins of Carlisle with her £1000 prize won in the October draw.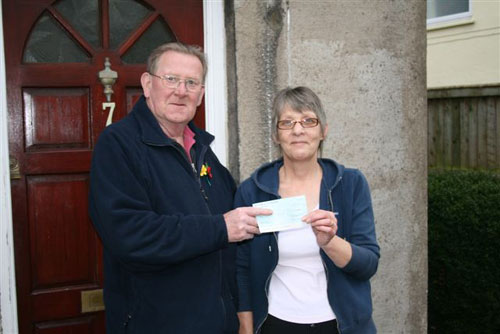 08/11/2011 £1,000 winner
Jeff Dixon from Welton receives his £1000 prize from Mark at Dalston Pharmacy, ou Blues Lotto agent for the area.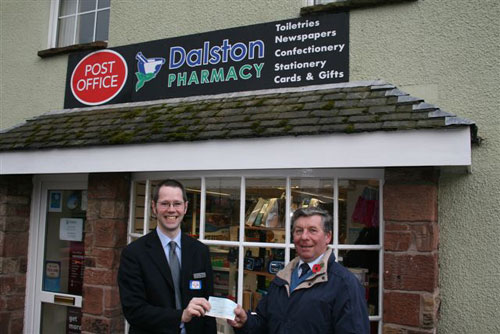 10/08/2011 £10,000 winner
Blues Lotto agent, Pat Wood presents Lesley Gillgrass from Carlisle with her cheque for £1225 won in last weeks roll over draw.
10/08/2011 £10,000 winner
Carlisle United's Hon. Club President, David Dent presents the 2011 Blues Lotto £10,000 winner Julie Hodgson with her cheque. Also pictured is Lotto agent Daniel King who performed the draw.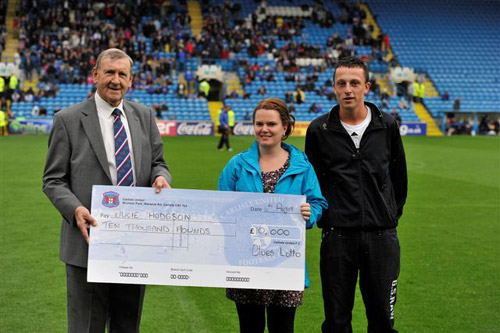 19/07/2011 £10,000 winner
Congratulations to our winner Julie Hodgson and her family who will be at Brunton Park on the 6th August to collect their £10,000 prize.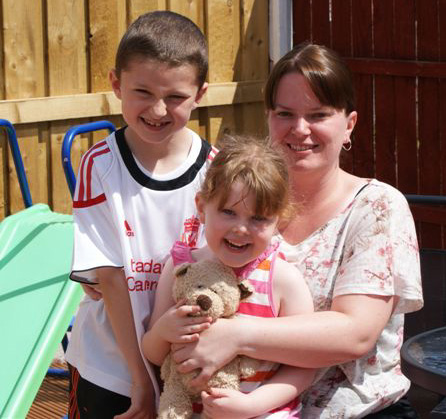 16/05/2011 Annie Mawson's Sunbeams Music Trust
We are delighted to have just launched a partnership with local award winning charity, Sunbeams. Cleator Moor born and bred Annie Mawson and her team of specialist musicians deliver Music Therapy to adults and children suffering from mental and physical disabilities in 65 venues throughout Cumbria each month. Planning permission has been granted for Sunbeams' very own purpose built centre at Redhills near Penrith, however almost £1.3m still needs to be raised to make this a reality.
The Blues Lotto will donate a percentage of the income raised each month from members who have joined our weekly draw using Sunbeams application forms. Please download your copy. Membership payments can be made at various intervals by standing order or annually by cheque and debit card.
Why not visit www.sunbeamsmusic.org to find out how the lives of 1000's of Cumbrians (like little Oli on the leaflet cover) are transformed every year.

18/04/2011 Wembley draw winners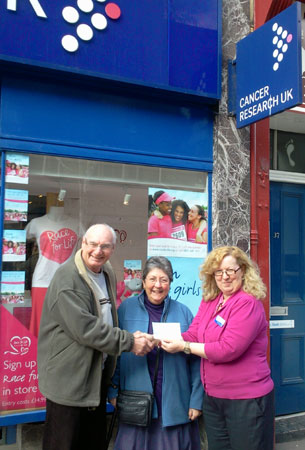 Mr and Mrs Hill from Wigton winners of the Wembley draw receiving their prize from Diane Moore of the Cancer Research shop in Carlisle where the winning ticket was purchased.
08/04/2011 Wembley 50/50 draw
Congratulations to George and Pauline Hill, winners of a £361 prize in our special Wembley draw. The winning ticket, number 7161 had been purchased at the Cancer Research shop in Bank Street, Carlisle who had been selling tickets in return for a donation to their charity. Please don't throw away your tickets yet as there are more prizes to be won on the 29th April!
04/03/2011 February bonus ball winner
The Blues lotto February bonus draw winner, Michaelah Telfer from Carlisle receives her £1000 cheque.
21/12/2010 Festive schedule
The lottery office will be closed from Thursday 23rd December until Tuesday 4th January. Any messages left by telephone (01228) 526237 (option 4) or email lottery@carlisleunited.co.uk will be answered on 28th December and 1st January subject to the scheduled Carlisle United matches take place on these days.
Our regular weekly draws will take place on 23rd December and 1st January with prizes posted out (standing order customers) or delivered by your collection agent.
May I take this opportunity to thank everyone for their support and offer my best wishes for Christmas and 2011.
06/12/2010 Blues Lotto collection agents required
Longtown & Gretna areas
Hours to suit
Excellent rates paid
Contact Ewan 01228 526237 (option 4)
10/11/2010 Top award for Lotto agent
Carlisle United and the Blues Lotto would like to congratulate Catherine Bell and her staff on their magnificent achievement of being voted "Independent Newspaper Retailer of the Year". Almost 12 months ago Catherine and her family were forced out of their home and Main Street shop by the terrible flooding that caused disruption and heartache to so many people in the area. Despite losing all her business records she tried to provide as normal a service as possible before setting up a temporary shop for the next 4 months.
Her customers really appreciated her outstanding service and with the help of their nominations she beat 1000's of other newsagents from the UK and Ireland to win this top award. Cockermouth Paper Shop (and Mills) are the local agents for the Blues Lotto and stockists of the "United Scene" magazine.
09/11/2010 Rollover winner receives her cheque
Kath Proudfoot from Carlisle became our second winner on the Blues Lotto rollover draw. She is pictured here collecting her cheque for £1125 from Judith and Myra (with grandson Theo) at Reay and Armstrong's shop in Denton Holme where she has been paying her lottery subscription for many years.
The rollover draw was introduced earlier this year for all Blues, Premier and Corporate members. Starting at £250 an additional £25 is added to this prize each week it's not won. If the letter and number combination drawn matches one of the ten on your membership card, then you are a winner! The prize will be paid automatically so there is no need to worry about checking numbers.
Kath's winning number was D8147.
16/08/2010 ý10,000 winner for 2010 receives his cheque
Our ý10,000 winner for 2010, Bill Thompson from Carlisle receives his cheque from Carlisle United chairman, Andrew Jenkins.
05/07/2010 Annual £10,000 jackpot draw
As mentioned earlier on this site the Blues Lotto annual £10,000 jackpot draw took place at the Castle Hotel in Brough on Friday evening (2nd July). A number of Blues Lotto collection agents were joined by lottery members from Brough all hoping to win the big prize!
In the end the big prize was won by a Carlisle resident for the 5th successive year. Bill Thompson from the Warwick Road area of the city was delighted when agent Steve O'Donohoe called to give him the good news. Bill will receive his cheque on the first day of the new season at Brunton Park. A fun draw for agents was also held on the night with David Bowman from Wigton winning the prize.
Promotions manager, Ewan explains how the draw works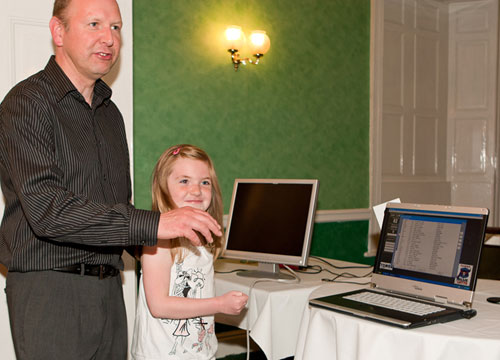 The computer scrolls through the list of members taking part in the draw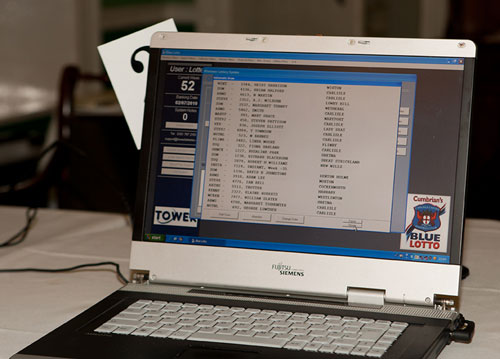 Ewan's daughter Paige presses the button to start the automatic selection of the winner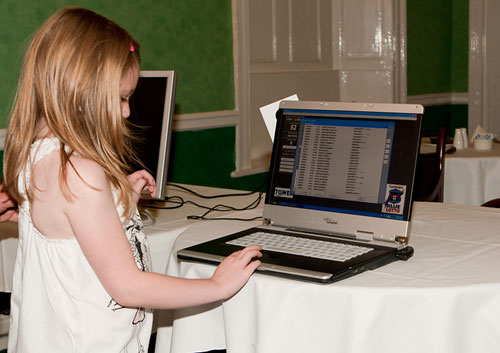 Bill Thompson's number is selected by the computer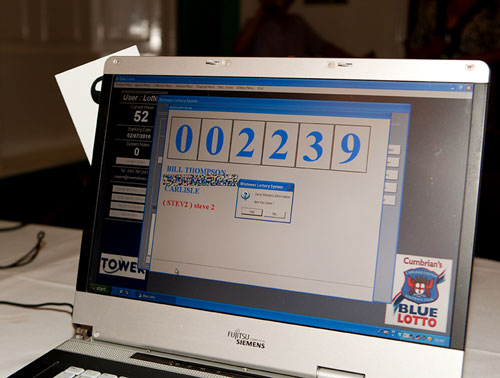 David Bowman is delighted to win the agents draw
02/07/2010 June £1000 bonus winner
Blues Lotto agent, Kenny Somers presents our June £1000 bonus winner, Alan McMurray from Carlisle with his cheque.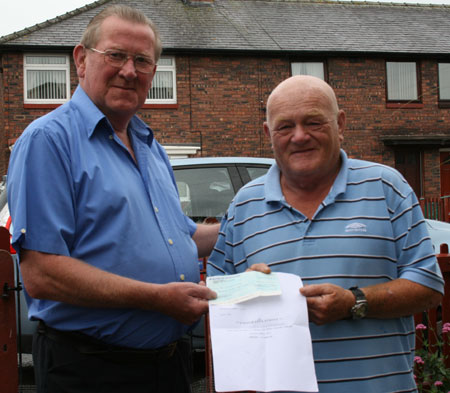 17/06/2010 2010 Blues Lotto £10,000 jackpot
It's just over 2 weeks until the 2010 Blues Lotto £10,000 jackpot draw. This years winning numbers will be selected at the Castle Hotel in Brough on Friday 2nd July at 8:30pm with the prize cheque presented at the first Carlisle United home league match of the season. Should you wish to come along to see the draw taking place please contact us with your name and telephone number by Tuesday 29th June.
If you are not already a Lotto or Premier member, there is still time to sign up for the big draw. Give us a call now on 01228 526237 (option 4) leaving a message if required and we will set up your new membership. You must register by Monday 28th June to be included for this years £10,000.
Pictured here is last winner Margaret Boundy from Upperby collecting her prize from Carlisle United chairman, Andrew Jenkins.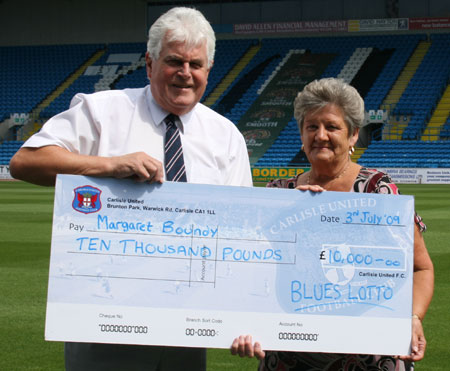 Pictured here is our 2008 winner Kerrie McDougall receiving her prize from Blues Lotto agent, Darren Gibson.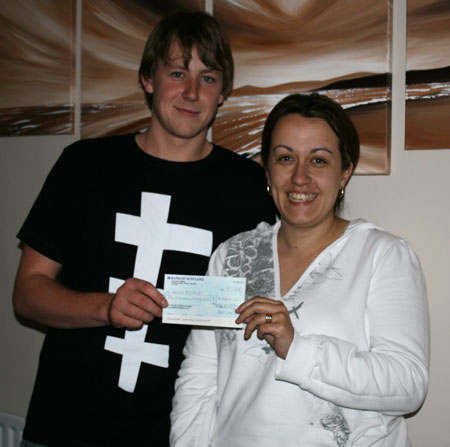 YOU'VE GOT TO BE IN IT TO WIN IT!!
15/06/2010 Kendal Lotto agents required
We are currently looking for door collectors and sales agents in the Kendal area to help us bring the Blues and Premier Lotto to our supporters and residents of the town. Hours for these positions are very flexible and our rates of pay is among the best in the lottery business with bonuses paid on selected big prize wins. Please telephone or email Ewan Wood to find out more.
27/02/2010 £1000 Bi monthly bonus winner
Carlisle United season ticket holder, Liz Keeler from Workington was pleased to get a phone call advising her she'd won £100 in this weeks draw and was absolutely delighted to learn that she'd won our £1000 bonus prize too! Liz received her 2 cheques at the Gillingham game from Lottery Manager, Ewan Wood and Club Chaplain, Alun Jones who had drawn Liz's winning numbers.
22/01/2010 New Rollover Draw Winner
A £275 prize has been won by R Smith from Appleby with lucky number A8641 in the 2nd week of our new rollover draw. All Blues Lotto members have the chance to win this prize. If one of the ten lucky numbers on your membership card matches the rollover number drawn then a minimum prize of £250 is yours. Should there be no winner then £25 is added to the prize pot and it rolls over to the following week. This continues each week until the prize is won with the possibility of it building up to £1000's. Like our main draw there is no need to worry about forgetting to check you numbers as all prizes will be paid automatically.
18/12/2009 £1000 Christmas bonus draw winner
This years winner of the Blues Lotto £1000 Christmas bonus draw is Gary Ferguson from Carlisle. He's pictured here receiving his prize from agent Steve O'Donohoe.
20/11/2009 Gretna Couple Win
Gretna couple Betty and Alan Smith to discover they were both £100 prize winners the same week in the Blues Lotto draw. It is the first time either of them had one a prize in the draw and they very kindly donated some of their winnings to Carlisle United and Gretna FC 2008. They are pictured here receiving their cheques from newsagent, Neil McKenzie and the manager of Gretna FC 2008, Stewart Rome.